Whether you like it or not, spring is upon us and that means it's swimsuit season! But whether you're headed to Cabo or just staying here in the Bay and lounging by the pool, the stores are packed with the newest, trendiest swim separates to suit your every need. And while the weather here in the Bay is ever-changing (one day it's cloudy, the next day it's 75 degrees), you should be well-informed of the newest trends to help you pick out the perfect new suit.
Here are the top swimsuit trends for 2011:
1) BRIGHTS – It's hard to miss the BRIGHT colors on the racks in all the stores. Turquoise, coral, yellow, lime green, hot pink, lavender, and bright blue are all the hottest colors for swimwear and clothing for spring and summer. The brighter the better!
I love how Audrina rocks her bright bikini. She also exemplifies a flawless way to wear a mismatched top and bottom: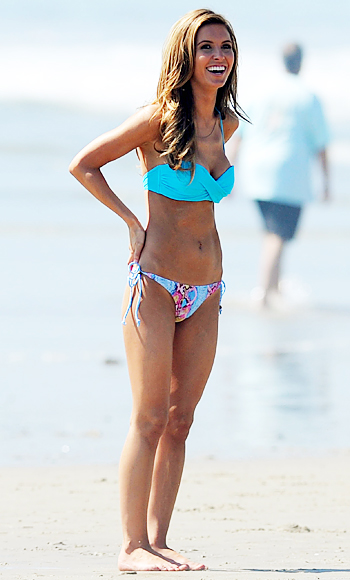 Bright coral is everywhere this spring and I have to admit I LOVE it! Coral is flattering on pretty much every skin tone and it can make you look more tan than you actually are (which is a great bonus). This one is my favorite from Victoria's Secret:
2) RETRO – Betsey Johnson has done it again! Her swimsuits this season are an adorable mix of polka dots, bows, ruffles, and all things girly (think pin-up girl)! I especially love all of the floral print options. Betsey knows how to make a girl feel girly and and edgy at the same time. To get that pin-up girl style go for a skirted bottom with an underwire top:
3) NAUTICAL- Stripes carry over from tanks and tees to swimwear flawlessly and this season they're everywhere and in every color of the rainbow. One of my favorite fashion icons, Lauren Conrad, keeps it classy in a simple red and white bandeau and a pair of navy shorts:
Splendid, one of my favorite casual labels, has an amazing new swimwear line out with some great reversible striped styles in fun colors:
And did you know the Kardashians have a swimwear line out for Beach Bunny Swimwear?? Say what you may about the Dash girls, but you must admit the girls have style. I just discovered this sailor-inspired suit designed by Kourtney K. that I LOVE:
4) TRIBAL/ANIMAL PRINT – Tribal/animal print is as hot for swimwear as it is for clothing. I imagine this teeny bikini by Shoshanna is the perfect way to do a bright tribal print on an exotic vacation or for any girls honeymooning this summer:
Vix has been an all-time favorite of mine for years because their cut and colors are flattering on many body types. I even caught Ramon from Real Housewives of New York wearing last season's version. This bikini is an example of how to rock the classic cheetah print:
5) DENIM – Denim bikinis are for those fashionistas who are daring enough to venture away from lycra swimsuits. True Religion created a whole line of denim suits that are super cute:
I love this Beach Bunny "Fools Gold" suit because it mixes two different prints instead of the complete denim look from True Religion. It's also a contemporary way to wear a suit without being too matchy-matchy:
But the suit is just the beginning of the story. Once you've picked out a new bikini, you'll need a great cover-up for walking to the pool or to brunch. The newest trend this year is the cutoff t-shirt in place of the traditional cover-up. Check out Vanessa Hudgens in her cute rocker t-shirt:
I love this idea and how EASY would it be to do it yourself!? Take any old t-shirt you have, and a pair of scissors and voila! Alternatively, almost every store from Nordstrom to Forever 21 is selling crop tops these days.
If you're like me and incredibly indecisive when it comes to all the different color options and prints available in the swimwear department, then you have to check out the "Bikini Mixer" that Victoria's Secret has on their website that allows you to mix-and-match different bikini tops and bottoms to create the perfect (or perfectly mismatched) suit. There are over 20 colors to choose from including solids, stripes, polka dots, tie-dye, and animal prints. Check it out and play around with it: http://www.victoriassecret.com/swimwear/beach-sexy-bikini-mixer#